We've got a busy week of in-person events around the globe, with COExperience in Florida, Hannover Messe in Germany, the UK Manufacturing & Supply Chain Expo, and several more. Xometry is holding a happy hour and a webinar, ImplementAM heads to Los Angeles, Formlabs will cover how to leverage 3D printing during product development, and SprintRay will discuss the science behind 3D printed ceramic crowns. For all of these offerings and more, read on for the details!
3D Printing News Unpeeled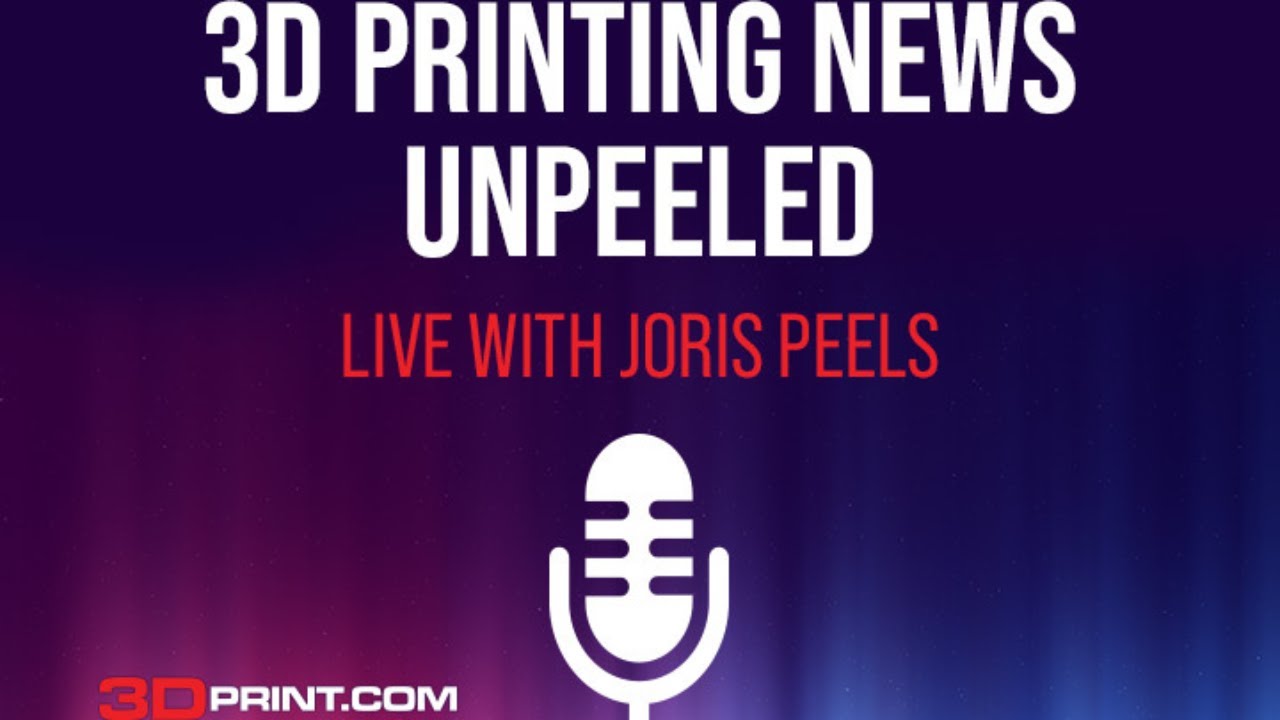 Our Executive Editor Joris Peels, who's also the Vice President of Consulting at SmarTech Analysis, offers a news livestream one to two times a week called 3D Printing News Unpeeled at 9:30 am EST. For each episode, Peels gets on LinkedIn Live and tells us, in 20 minutes or less, what he considers to be the top news stories from the 3D printing industry that week, and why they're important. Some of the stories in his roundup are ones we've covered at 3DPrint.com, and some are not, but they are all equally interesting and impactful.
April 16 – 19: COExperience in Miami, Florida
Starting today and running through Wednesday, April 19th, Dassault Systemès users can connect and build skills together in Miami, Florida at COExperience 2023. COE, or the Community of Experts of Dassault Systemès Solutions, is a not-for-profit taxpaying corporation that helps users, and their companies, leverage their Dassault Systèmes solutions through exclusive education, training, and networking opportunities, as well as product influence and best practices. In addition to networking opportunities and hands-on labs, attendees will have the chance to evaluate technologies and products up close, in order to learn how to implement valuable solutions.
"COExperience is the premier Dassault Systèmes user-focused conference. From April 16-19 in Miami, hundreds of Dassault Systèmes users and preeminent industry partners will reconnect with one another and access transformative education that will help them build skills, increase efficiencies and gain knowledge."
You can register for COExperience 2023 here.
April 17 – 20: Chinaplas Exhibition on Plastics & Rubber
The 35th International Exhibition on Plastics and Rubber Industries, Chinaplas 2023, will be held in Shenzhan, China this week, April 17-20. With support from many local and overseas associations, the trade show features 18 theme zones, with 9, including the 3D Technology Zone, under Machine Exhibits; 7 under Material Suppliers; and then the Innovative Products Zone and Trade Services Zone. Several AM industry companies will be in attendance, including Arburg, Siemens, Farsoon Technologies, Raise3D, and more.
"The 35th International Exhibition on Plastics and Rubber Industries will be held in Shenzhen from April 17 to 20, 2023, joining hands with more than 3,900 high-quality exhibitors around the world to launch a large number of innovative solutions and splendid concurrent activities, exploring breakthroughs and advancements in the plastics and rubber industry and promoting its high-quality development."
You can register for Chinaplas 2023 here.
April 17 – 21: Hannover Messe 2023
The leading trade fair for industry, Hannover Messe, is coming to Germany April 17-21. Covering key topics like AI and machine learning, additive manufacturing, Industry 4.0, carbon-neutral production, and more, the event will feature networking opportunities, an expo, conference stages, awards, guided tours, fascinating speakers, and much more. AM industry companies including BASF, Tulip, igus, Markforged, Siemens, ANSYS, Altair Engineering, Autodesk, multiple Fraunhofer research institutes, and more will be exhibiting at Hannover Messe.
"Digitalization and sustainability – these are the key themes of HANNOVER MESSE. World's leading companies from the mechanical engineering, electrical engineering, logistics and energy industries, as well as from the software and IT sectors, will be showing how the transformation to digitalized, resource-efficient and climate-neutral production can succeed."
You can purchase your ticket to Hannover Messe here.
April 18 – 19: PIC International Conference
In Brussels, Belgium, from April 18-19, PIC International will take place. Part of AngelTech, this conference focuses on advances in the photonics industry and will offer over 30 presentations from various related sectors, including 3D printing, as well as multiple networking opportunities and more than 80 exhibitors. The presentations will be grouped into six key themes, including Chip-scale packaging, Hybrid PICs, and more, so that attendees and exhibitors alike will be exposed to the relevant supply chains and customer and supplier bases.
"Attendees at the two-day conference will gain an up-to-date overview of the status of the global photonics industry, and will have the opportunity to meet many other key players within the community."
You can register for PIC International here, but don't delay, there are a limited number of tickets left!
April 18 – 20: Advanced Factories Expo & Congress
The Advanced Factories Expo & Industry 4.0 Congress, in Barcelona from April 18-20, features the tagline "A new age in automation technology." Attendees will discover the latest solutions in robotics, 3D printing, artificial intelligence, machine learning, industrial automation, and more, which can be used to increase productivity on the factory floor. More than 260 expert speakers will present at the Industry 4.0 Congress, which is the largest European Congress on advanced and digital industry, and there will be a variety of networking opportunities as well, including guided tours, the Industry Startup Forum, Factories of the Future Awards, and more.
"Find out the latest advances and cutting-edge technology that will transform factories into digital factories due to the use of advanced technology. Inspire yourself with the newest innovation and learn how to optimize your business."
You can purchase tickets for Advanced Factories here.
April 18: Leverage AM During Product Development
The week's first webinar, presented by Formlabs, will be an "Applications Overview: Leverage 3D Printing at Every Stage of Product Development." Held at 11 am EST on Tuesday, April 18th, attendees will learn from Formlabs' Juliette Combs how to use 3D printing to streamline their workflows and accelerate the product development process, while also improving the cost-effectiveness, speed, and quality of their products. Topics include an overview of 3D printing applications for your business, including rapid tooling and prototyping and end-use parts, how to choose the right materials and process, and more.
"Watch this webinar to learn how manufacturers and product designers have been leveraging 3D printing to rethink the way products are made. Our Formlabs expert will give you an overview of all applications and walk you through how 3D printing improves quality, speed, and cost-effectiveness, from prototyping to production."
You can register for the webinar here.
April 18: Xometry's Happy Hour in Minneapolis
If you live in the Minneapolis area and have ever been curious about Xometry and its many offerings, then you'll want to join the Happy Hour it's sponsoring this Tuesday, April 18th, from 5-8 pm CST. The event, held at the Topgolf in Brooklyn Center, will feature drinks and appetizers and plenty of time to chat.
"Colleagues and friends in engineering, design, and procurement are all welcome!"
You can RSVP for the happy hour here.
April 19: DED Alloy Development with ASTM International's AMCOE
ASTM International's AM Center of Excellence (AMCOE) will hold a webinar on "Alloy Development Strategies using Directed Energy Deposition" at 10 am EST on Wednesday, April 19th. Taught by Soumya Nag, Senior R&D Staff Scientist at Oak Ridge National Laboratory, this webinar will be focused on the fundamentals, current state-of-the-art, and future of DED 3D printing. Attendees will investigate traditional and novel alloys for DED, large-scale AM opportunities, coupling materials and manufacturing strategies, and more.
"Much of the content would be a scientific deep dive on novel alloy development strategies using the unique attributes of DED-driven manufacturing. Insights would be provided on synergistically coupling in-situ sensor and modeling tools to understand the phase/stress evolution of additive builds in a spatio-temporal manner. Some of the concepts would be material agnostic and can be beneficial for fabricating next generation components for a wide range of applications in aerospace, marine and energy sectors."
You can register for the webinar here.
April 19: Stratasys Customer Hub Demo
Stratasys will hold a Customer Hub Demo on the 19th at 11 am EST. This webinar, taught by two Stratasys applications experts, will be especially valuable to those looking to shorten work time and improve purchase processes, and who appreciate helpful video guides. A live demo will be presented during the webinar, and there will also be a live Q&A session.
"We will be giving a live demo of the Stratasys Customer Hub. This demo will show you new features and demonstrate how the Hub can be used to save you time throughout the day."
You can register for the webinar here.
April 19: 3D Printing Rubber with ETEC & Aerosport Additive
Also at 11 am ET on the 19th, Aerosport Additive and Desktop Metal company ETEC will present "3D Printed Rubber: New Possibilities for Flexible Manufacturing." Aerosport offers many manufacturing methods to meets its customers' needs, such as urethane casting, CNC machining, and 3D printing, but rubber materials weren't always available for the latter. The company was only able to consistently match the durability and strength of real rubber after investing in ETEC's Xtreme 8K DLP 3D printer and Adaptive 3D's Elastic Tough Rubber resin.
"Join us April 19 with Aerosport Additive's CEO Geoff Combs and Machine Operator Steve Clark to hear firsthand their experiences using Xtreme 8K digital light processing (DLP) 3D printer from ETEC with DuraChain™ Elastic Tough Rubber™ resin to offer tooling-free solutions that eliminate long lead times.

"Learn how they produce rubber parts tough enough for consistent use, yet soft enough to be pliable."
You can register for the webinar here.
April 19: Building a Smart Badge with Xometry & Autodesk
Greg Paulsen, Xometry, and Autodesk's Fusion 360's Peter Simpson will co-host a webinar at 1 pm EST on the 19th, "From Design to Manufacturing in Weeks: Building the Autodesk University Smart Badge." The two will explain the development and manufacturing process of creating a smart badge using both 3D printing and rapid injection molding at a recent Factory Experience. Attendees will learn about Fusion 360's design capabilities and major milestones in moving from design to product, see how 3D printing adds value to low volume production and prototyping, and more.
"Xometry produced all the mechanical components of their smart badge design using the Xometry App for Fusion 360. This provided design feedback, material sampling and alternatives, and ultimately the low volume production to deliver the final product, an electronic conference name badge, in a matter of weeks versus months. Fusion 360's multi-workspace approach was a key factor to this product's success: all the design and manufacturing was planned within one piece of software, from injection molding to additive and subtractive manufacturing."
You can register for the webinar here.
April 20: UK Manufacturing & Supply Chain Expo
At the Marshall Arena, Milton Keynes on Thursday, April 20th, the UK Manufacturing & Supply Chain Conference & Exhibition, along with its 8 co-located events, will be held. 50 speakers and 100 exhibitors will be on hand to present on topics including 3D printing, robotics and automation, sustainable manufacturing, supply chain and logistics, composites, Industry 4.0, and more. At this free event, attendees will have the opportunity to network with industry peers and check out the latest technologies in the sector
"This event will serve as a national forum for manufacturers and operators involved throughout the associated supply chains from across the UK to gather to discuss pressing issues facing the industry. It is now firmly established as a 'must-attend' annual event, which successfully connects key stakeholders across the full spectrum of British manufacturing, including aerospace, automotive, chemical & pharmaceutical, construction, defence, electronics, energy, food & drink, nuclear, plastics, security, steel, space and textiles."
You can register for your free pass here.
April 20: ImplementAM in Los Angeles
The new case study-based advanced manufacturing conference ImplementAM aims to help people understand the benefits of AM in small, collaborative group settings. Its latest one-day workshop will begin at 8 am PST on April 20th in Los Angeles, California. Breakfast, lunch, and happy hour at SoCal Vibes Co. in Gardena are included, and attendees will spend the day learning, networking, and collaborating in group activities. There will be several presentations, and the keynote will be delivered by Jeff Campbell, Sr. Director of Technology Development for Relativity Space.
"Learn about the business cases behind additive manufacturing and hear from experts from 3DEO, Matterhackers, Elnik Systems, Intrepid Automation, EOS, and more."
You can register for the workshop here; bring a friend and get 40% off their registration!
April 20: AM Coalition on Testing, Certification, & Standards
At 3 pm EST on the 20th, the Additive Manufacturing Coalition will present its latest live Zoom forum, "Testing, Certification, and Standards – How Can We Accelerate the Process?" The panelists will include John Barnes, Managing Director of The Barnes Global Advisors, and Carl Thompson, AM Client Engagement Manager, ASTM International.
"This will be a session to discuss how Testing, Certification and Standards can be developed more quickly."
You can RSVP for the virtual forum here.
April 20: SprintRay & 3D Printed Ceramic Crowns
Finally, SprintRay welcomes Steven Shao, DDS, to discuss "The Science Behind 3D Printed Ceramic Crowns," at 7 pm EST on Thursday the 20th. He will offer a detailed look at the material makeup of 3D printed ceramic-dominant crowns, learn how mechanical properties beyond flexural strength can predict clinical successes, and review an in-office 3D printed workflow with SprintRay's latest ceramic-dominant resin, clinically formulated with over 50% ceramic filler for dental restorations and FDA 510(k) Class II cleared for 3D printing full, partial single crowns, and veneers.
"Ceramic-dominant resins have been rigorously studied and are scientifically proven as a viable material for definitive restorations that displayed better retention than competitor resins. Bring restorative restorations in-office with 3D printed crowns, chairside."
You can register for the webinar here. Attendees will earn 1 CE Credit.
Do you have news to share about any future webinars or virtual and live events? Please let us know!
Subscribe to Our Email Newsletter
Stay up-to-date on all the latest news from the 3D printing industry and receive information and offers from third party vendors.
---
Print Services
Upload your 3D Models and get them printed quickly and efficiently.