voxeljet (Nasdaq: VJET) beat earning estimates but still posted an €11.4 million, or €1.53 per share, loss for 2022 amid ongoing challenges in lead times for 3D printer electrical components, which are usually between eight and nine months. Revenue for the year ended December 31, 2022, increased 12.1% to € 27.8 million from €24.8 million in the prior year period. Voxeljet says it reached the midpoint of its revenue guidance and is now at a new record high for full-year revenue.
Fourth quarter revenues at the company dropped by 1.1% to €10.8 million, compared to the same quarter in 2021, which voxeljet attributed to a decrease in both its system and services sales. The business sold the same number of printers (nine) as in the fourth quarter of 2021; gross margins were lower as a result of a less favorable product mix in its systems segment, mainly because it sold smaller systems that carry smaller margins, explains voxeljet CEO Ingo Ederer during an earnings call with investors. Other setbacks for the company include delays in sourcing several electrical components for its printers, as well as lower gross profits from its German and Chinese service centers.
With fewer revenues and increases in operating, administrative, and selling expenses, the firm experienced a net loss of €155,000, or one cent per share, for the fourth quarter, down from a profit of €1.1 million, or 15 cents per share, in the same period last year.
"We are very happy with the results for the quarter. Both our operating business and our financing activities with the completion of the sale and leaseback transaction [of its German facility] were very successful," states Ederer. "In our Systems segment, we had a very strong order inflow and started with a new record-high order backlog into the new business year. Regarding our new VJET X 3D printers, we now have five units of this large, next-generation 3D printer in operation at the Bavarian car maker and have realized revenue for all of them. In our on-demand printing segment Services, demand continues to be extremely good – both in Europe and the US. This high demand is driven by large production orders, which is very exciting."
The executive also told investors that advances in the firm's research and development strategy during the last few years prove a more substantial commitment to technology leadership than ever. As a result, research and development expenses increased in the fourth quarter to €2.1 million from €1.4 million the year before. However, Ederer adds that "we have now started to capitalize on these investments" and believes that the company is on its way to reaching profitable growth.
Voxeljet's Chief Financial Officer (CFO) and Chief Operating Officer (COO) Rudolf Franz says its fourth-quarter recorded earnings before interest, taxes, depreciation, and amortization (EBITDA) was positive, thanks to the successful completion and gains from the sale and leaseback transaction of its German facility which closed on October 31, 2022; the repayment of all debt in the two successful rounds of financing, and the solid backlog of printer orders. The total backlog of 3D printer orders on December 31, 2022, was €10 million, representing eleven 3D printers. Much higher than the backlog of €3.9 million a year before, representing seven 3D printers.
Ederer highlights that the effective adoption of 3D printing requires a fully integrated ecosystem, including pre- and post-processing of the 3D printed parts. In that regard, the CEO believes voxeljet is ahead of its competitor's thanks to the experience gained through VJET X and similar projects. Thanks to advances like these, voxeljet believes it has reached an established position in the global sales network and production footprint in all major markets in Europe, the U.S., and Asia.
At the beginning of last month, voxeljet expanded its collaboration with Tooling & Equipment International (TEI) to manufacture highly complex castings for Cadillac's new electric vehicle (EV), Celestiq. Ederer pointed out that TEI is using its sizeable 3D sand printer purchases, the industrial VX4000s, to produce cores for the series production of large-format, weight-saving structural components for the Cadillac Celestiq. By using 3D printing, the team has ensured that the novel underbody structure consists of only six large precision sand-cast aluminum parts and that each of the six castings roughly reduces the number of parts by 30 to 40 components. This collaboration, along with others that the company has highlighted, including with other automakers in Germany, is helping it realize its revenue.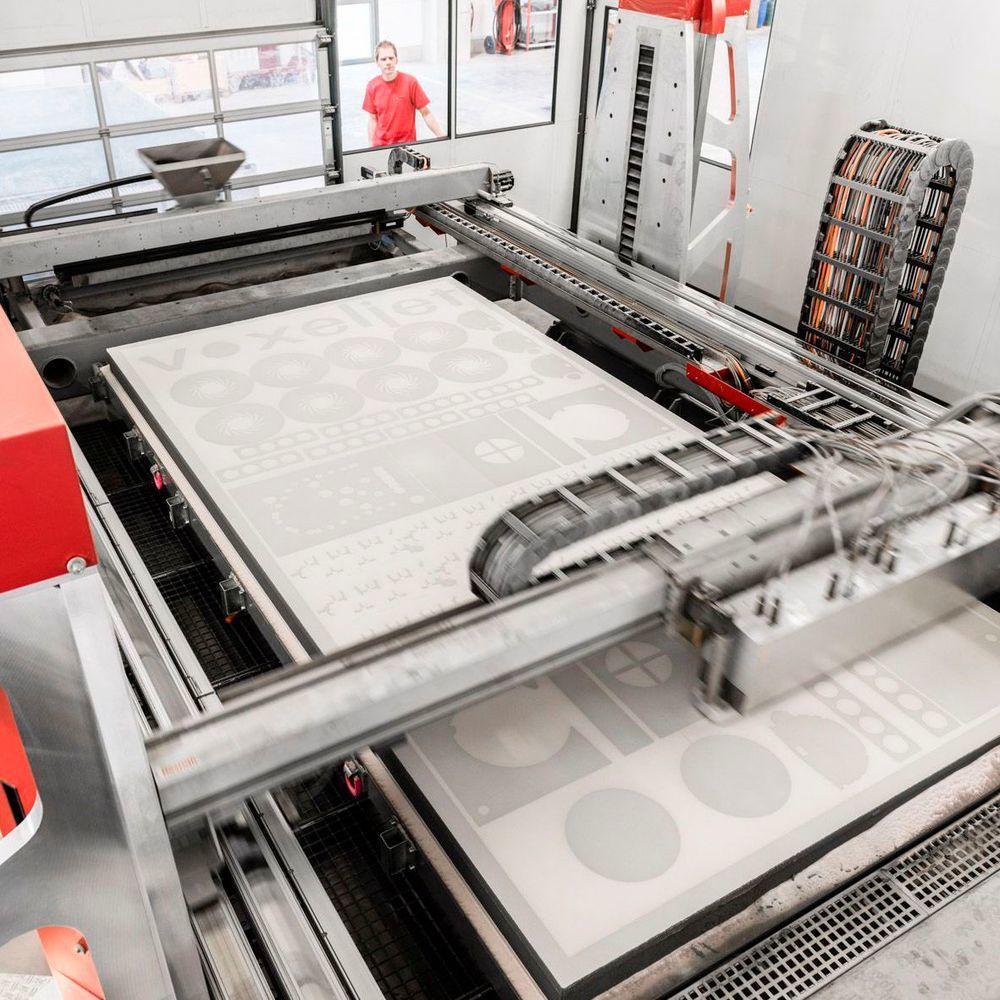 Moving onto the 2023 outlook, the firm anticipates revenue guidance for the first quarter of 2023 projected to be in the range of €5.8 million to €6 million. The executives anticipate the full-year 2023 revenue range to be between €27.5 million and €32.5 million. Selling, general and administrative spending is expected to be in the range of €14 million to €16 million, and R&D spending between €7.5 million and €8.5 million.
Subscribe to Our Email Newsletter
Stay up-to-date on all the latest news from the 3D printing industry and receive information and offers from third party vendors.
---
Print Services
Upload your 3D Models and get them printed quickly and efficiently.