Last week Tilly Lockey went on stage at the Kyalami Grand Prix circuit in Johannesburg, South Africa, during the SingularityU South African (SA) Summit, for a one-on-one with Benji Rosman, Principal Researcher in the Mobile Intelligent Autonomous Systems group at the Council for Scientific and Industrial Research (CSIR). The no-filter, expert public speaker, activist, and model has been touring the world to talk about her incredible bionic arms. And did we forget to mention she's only 14 years old?
Her triumphant take on life is breathtaking, known for opening up about the illness responsible for the loss of both hands at a very early age, as well as her upbeat and confident attitude. Throughout the last few years, Tilly has been a massive force for children, helping prosthetic companies develop customized products suited for kids. Today she is an ambassador for Open Bionics, a UK-based firm developing low-cost bionic hands, also known as Hero Arms.
Tilly was one of three speakers of the Summit's Biotech and Medicine segment, along with Habib Frost, who talked about the future of medicine and technological advancements, and Kim Hulett, who discussed designer babies. Showcasing her incredibly sleek bionic arms, Tilly focused on her vision for the human-machine convergence of the future.
According to SingularityU SA, during the segment titled Benjamin Rosman in Conversation with Tilly Lockey: What's Possible in the Future, the two examined the connection between technology and human beings.
"Think about all the things you do with your hands on a daily basis. These hands help me both physically and mentally," said Tilly. "All the money used to go to the aesthetics of the hands, how they looked and not how they worked."
With an estimated five million upper limb amputees globally, companies like Open Bionics are essential to build and develop the next generation of bionic limbs, in what Rosman referred to as "turning disabilities into superpowers." Technology is not only changing how prosthetics work. Prosthetics can be heavy, which is something to keep in mind when developing bionic arms for kids. Growing up also means that hands need to be recreated and replaced at least yearly. With Open Bionics, things began to change – the company 3D prints the prosthetics from plastic, making them lightweight and more affordable, while the cost lies in the battery and the motors on the inside. A pair of 3D printed bionic arms can often reach around £10,000 (that's roughly 12,800 dollars), which often means a lot of fundraising is involved.
"Now kids get excited when they see me. My arms look like something out of an action movie, like from Marvel. They give other kids the idea that their disability is their superpower," suggested Tilly.
Actually, she is not so far off from the cinematic universe. Last January, she received a pair of Alita: Battle Angel bionic arms from director James Cameron. The multi-grip functionality Hero Arms were designed by the team behind the movie, and Cameron invited her to the premiere of the highly awaited sci-fi futuristic action film where she got to show everyone her brand new hands.
The Hero Arm is now available through private prosthetic clinics for people with below-elbow upper limb differences, aged nine and above. They are considered the first medically certified 3D printed bionic arm. They are engineered and manufactured in Bristol, UK, in a lightweight and affordable myoelectric prosthesis, now also available in the US and France for below-elbow amputee adults and children.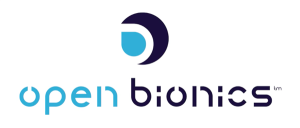 Open Bionics ensures that each Hero Arm is custom-built using 3D printing and 3D scanning technologies. They claim the prosthesis is robust, and the socket is comfortable, adjustable and breathable too, which means it's easy to take on and off. It's a powered bionic limb controlled by the muscles, with intuitive lifelike precision. Additionally, it consists of a breathable removable socket for enhanced ventilation and easy cleaning, powered by high-performance motors, advanced software and long-lasting batteries. The hand, which comes in three sizes, is the lightest on the market but extremely strong, able to lift up to eight kilograms.
The inspiring Tilly Lockey, who was diagnosed with meningococcal meningitis as a 15-month old baby, lost both of her arms, yet her role as a leader in the development of technology in the field of prosthetics is very important and she has been working with Open Bionics for the past four years, providing input that became fundamental in the right development of bionic limbs. Her presentation draws on her personal experience using two 3D printed, customized arms, and her role as a leader in the development of technology in this field.
Tilly revealed during the presentation that she has added a few personal tweaks to her hands, providing customization (and sometimes crazy feature) feedback, to Open Bionics over the last years. What makes Tilly's arms different–compared to regular, humanlike prosthetics–is that they have additional modes over and above open and close. All bionic advanced prosthetic arms work differently. What's more, is that they're personalized in terms of sensitivity, they work on flexing and releasing muscles.
The teen is very optimistic as to what the company will be able to do in the next five years, perhaps eventually offering features like projectors, a voice assistant, Bluetooth speakers, and even Haptic Touch feedback. Up until now, the company developers have proven that they can create much more than a simple open and close bionic arm, so expectations run high.
Tilly was able to help reimagine what a prosthetic extension could look like, welcoming a future where disabilities don't hold her back, instead they become "superpowers." She has a lot of followers and a massive presence among young people, often admitting that she enjoys the questions many kids make about her arms. The young role model suggested that creating new interesting technology is one thing, but it also needs to address gaps in society, moving out of research labs and into everyday lives.
SingularityU SA is the first African Country Partner and seeks to work with established businesses, entrepreneurs, and future innovators to create new opportunities for innovation and impact in the country. The education giant wants to "future proof Africa" by empowering its people to create abundant, sustainable, and holistic ways of living and working.
The World Health Organization states that just one in 10 people with physical disabilities in the developing world have access to technologies that could assist them, and with over ten million amputees around the world, this is certainly an innovation we need to advance. Making prosthetics available quicker, cheaper and better can solve one of Africa and the world's challenges.
Subscribe to Our Email Newsletter
Stay up-to-date on all the latest news from the 3D printing industry and receive information and offers from third party vendors.
---
Print Services
Upload your 3D Models and get them printed quickly and efficiently.