Casted Ring
After nearly completing a full jewelry project through the assistance of 3D Printing, I had a couple of thoughts that came to my mind. These thoughts were mostly of excitement, but they were also interesting in terms of the future of jewelry and how 3D printing will affect it. I had a lot of fun going through this traditional jewelry making process. A bunch of new skills were learned, but I am now thinking about the implications of 3D Printing and automating this process.
In terms of 3D Printing, the major disruption to the jewelry industry is metal printing. The ability to print a metal object is surreal and essentially would make the traditional manufacturing methods of jewelry creation obsolete.  There lies a lot of inherent danger in the classical jewelry making process. Extremely hot liquid is present throughout the stages of ring creation. Various hot working stations are involved as well. Improper ventilation is also a concern within this type of working area. We would not want to have a situation that could lead to volatile oxidation reactions that could explode a working area. There are also various safety gear that one must put on in order to protect themselves in this environment. So what could be a safer process? Metal printing I believe would be phenomenal for jewelry.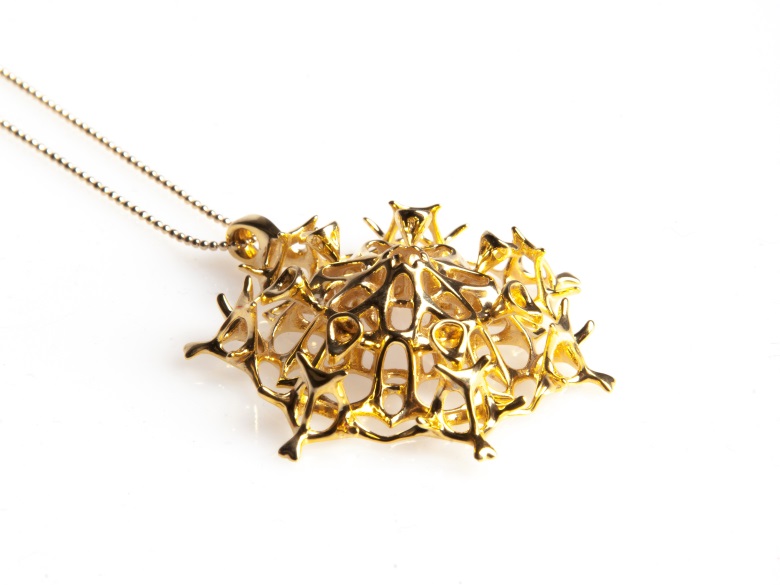 If metal printing develops to a higher level, it would be easy to envision 3D printed rings and necklaces. I 3D printed a ring that could be later casted. The ability for this to happen is out there, just not on a consumer level. Materialise currently has a platform for jewelry designers to upload designs that can be later metal printed. This is a valuable resource for individuals, but being able to control the supply chain is valuable for a jeweler if they wanted to do this in a local shop for example. Shapeways also has a platform that is similar in terms of a jeweler uploading their designs. 
The issues with current metal printing technologies is that for DMLS, for example, a part will probably not print the first time. Supports will have to be designed and the build may fail a few times for an entirely new shape. Other metal printing technologies like binder jet will have difficult to estimate shrinkage rates which would now still require trial and error approaches to many new shapes. There is also a lot of manual labor involved in metal printing. Metal printing processes also come with their own unique risks such as powder explosions and titanium powder fires. Especially now, metal 3D printing is not a panacea. I'm assuming on the whole that many of these limitations will be overcome due to the mass of companies attempting to industrialize metal printing at the moment. Meanwhile, already millions of parts are 3D printed indirectly and via casting turned into jewels worldwide. My own casting journey was far from perfect, however.
It took me a good amount of time and pre-processing to get my initial design done. This was definitely a good learning experience, however I should not do this to myself again. Learning how to design 3D models for jewelry is important now for me. It literally takes away so much existential grief when I am not sanding away wax for hours. There is a new existential grief that comes from creating geometries of products and hoping they do not fail in terms of prints, but I digress. 
It is very important the notion of time and lack of frustration. I myself have realized through making and various projects that I can deeply get engrossed in a project and lose track of time. However, if one wants to repeat their processes, it is not beneficial to have one off projects that require such focus on a consistent basis. The ability to replicate easily is the essence of scaling up one's operations. I would love to manufacture a ton of my rings, but if the way I did this project initially was my only way to do so, I would be in pain for the foreseeable future.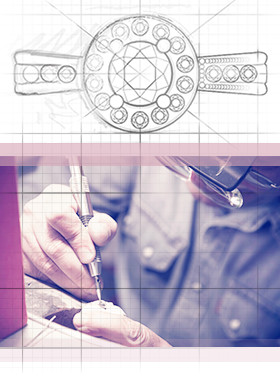 The mindset now turns into one that may be killing craftsmanship. I think that making things by hand will be slowly outdated in the future. There is a craftsmanship that is now emerging through the digital realm. Being able to model in 3D is essential for that future. There are only a few people currently who are showcasing these skills in terms of design. I am now more invested in becoming a product designer from just this brief exercise and project. 
The ability to see one's work in the physical realm is still valuable though. I would say that this element may be lost if we focus too much on the newer age technology and product creation through digital fabrication. There are indeed better results in terms of creating a product on a digital platform through the safety concerns previously mentioned. However, an element of visualizing within the physical realm is important. Prototyping designs and printing them in PLA before a metal print would be an efficient way to deal with this issue and would allow one to waste less metal material. 
Overall these are some of the basic ideas and thoughts I had been grappling with after creating a ring with the help of 3D printing. It has been a great process and I have learned a lot, and it has naturally made me a bit curious about other things within the field of jewelry manufacturing itself.
Subscribe to Our Email Newsletter
Stay up-to-date on all the latest news from the 3D printing industry and receive information and offers from third party vendors.
---
Print Services
Upload your 3D Models and get them printed quickly and efficiently.