To kick off this week's first edition of 3D Printing News Briefs, we've got a fun project to share with you, before moving on to events, business, education, and software. Materials Australia is hosting a 3D printing conference in Melbourne this summer, while formnext + PM South China will debut in September of 2020 and the original formnext is continuing to grow at record speed. Evolve Additive Solutions will expand its Rochester facility, and Mauritius is unveiling its second 3D printing center. The founders of rigid.ink launched a new online AM course, and Magnitude Innovations has released a new metal 3D printing software application.
Cool 2D-3D Project on imgur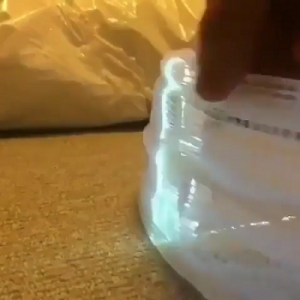 TheSparklyGhost, a user on the popular online image sharing community of imgur, recently posted a brief video of a really neat project titled "2D project on a 3D printed object." I'm going to do my best to explain this, but it's better if you watch the short video posted on Imgur, which has been viewed over 81,800 times in the last seven days. TheSparklyGhost 3D printed a long white object, which at first glance looks kind of like a curved wall but is actually an extended cutout shape of a person with legs akimbo. Then, the print is moved back and forth over a thin projection line, which makes it look like a 2D person walking.
The video has received a wide variety of comments in the last week. Some users just expressed their awe, while one asked if the STL for the print was available and some offered suggestions like "make a 3D projection on a 4D printed object" and "Now make it moon walk." However, not everyone was impressed, with one user asking if the cost was worth it and another saying, "k this is sorta cool and all but what will this do for you?" Anyone have a response to that?
Materials Australia Hosting 3D Printing Conference 
This summer, Materials Australia, the peak representative body of the country's materials science and engineering profession, will be curating an additive manufacturing conference in Melbourne. The Asia-Pacific International Conference on Additive Manufacturing (APICAM) 2019 will be held from June 30th to July 3rd at RMIT University. The conference, in its second iteration, will include keynote presentations by AM experts, a poster presentation, a networking hub, workshops, exhibitors, and multiple receptions.
According to the website, "The purpose of APICAM2019 is to provide a focused forum for the presentation of advanced research and improved understanding of various aspects of additive manufacturing. This conference will include invited lectures from internationally distinguished researchers, contributed presentations and posters."
Early bird registration is available until May 1st.
2020 Debut of formnext + PM South China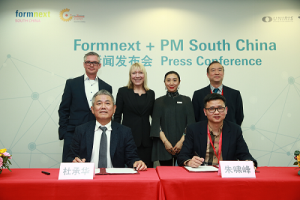 Additive manufacturing continues to grow more popular in China, with domestic industry sales estimated to reach $2.96 billion in 2020, and the government is paying attention. Now, from September 9-11, 2020, the first edition of Formnext + PM South China will debut at the new Shenzhen World Exhibition and Convention Center, which is said to be the largest exhibition venue in the world. The event will be jointly organized by Guangzhou Guangya Messe Frankfurt Co Ltd and Uniris Exhibition Shanghai Co Ltd, and will aim to help AM industry players open up new business opportunities in innovative equipment, processes, and advanced materials. Over 10,000 visitors are expected to attend, with more than 200 exhibitors from around the world.
"With the expertise from its brand name shows, Formnext in Frankfurt, Germany, and also PM China in Shanghai, the newly formed fair will be one of a kind in South China," Mr Hubert Duh, Chairman of Guangzhou Guangya Messe Frankfurt Co Ltd, said in a press conference to celebrate the launch of the event. "The synergy from the two fair brands will facilitate the exchange of ideas between industry professionals and bring a positive impact to the manufacturing sector."
formnext in Frankfurt Continuing Record Growth
In the meantime, the world's leading international AM trade fair, formnext, is still going strong, and is in fact expanding and developing at record speed this year along the whole process chain. As of March 2019, over 500 exhibitors, many of which are international and 147 of which are new, had already registered for the event, which will be held in Frankfurt from November 19-22. This means that the amount of space the event will cover this year is already more than the final size of formnext 2018, which is why formnext 2019 will take place for the first time in the more modern Halls 11 and 12.
Other changes include an expansion of the Discover3Dprinting seminar series, which is organized with the ACAM Aachen Center for Additive Manufacturing and meant for medium-sized companies looking to adopt AM. The Startup Challenge, AM4U platform of career opportunities, the ideas competition "purmundus challenge," and the BE-AM Symposium, which focuses on 3D printing in the construction industry, are all continuing and being expanded, and formnext's content partner TCT will again discuss current developments and trends in the conference program. Additionally, this year the US will be the first partner country represented at the event, and special highlights for American guests, like the "AM Standards Forum," will be included.
Evolve Additive Solutions to Grow New York Operations
3D printing OEM Evolve Additive Solutions, a Stratasys spin-out company, is headquartered in Minneapolis but operates its materials technology center in Brighton, New York. The company will be expanding its Brighton operations, according to an announcement by Empire State Development (ESD), which will allow the creation of 60 new jobs over the next five years in the Finger Lakes region. The company recently raised $19 million in equity funding with lead investors LEGO Brand Group and Stanley Black & Decker, which complements its efforts to commercialize its Selective Thermoplastic Electrophotographic Process (STEP) 3D printing process and expand its Brighton office by 7,000 square feet, with another 13,000 added later. Supporting the development and growth of high-tech industries, such as 3D printing and advanced manufacturing, is an important part of the Finger Lakes Forward economic development plan.
"Our Brighton facility is key to our success and having a first-class facility to attract the best talent possible for materials and process development is essential," said Evolve's CEO Steve Chillscyzn. "We are extremely pleased that Empire State Development recognizes the opportunity our technology can offer to our future customers but also to are current and future employee base in the area."
In exchange for job creation commitments, ESD has offered Evolve tax credits of up to $1 million through the Excelsior Tax Credit Program to facilitate its growth in the region.
Mauritius Opens Second 3D Printing Center
The Republic of Mauritius, located about 855 km east of Madagascar in the Indian Ocean off the southeast coast of the African continent, set up its first 3D Printing Centre last winter on the National Computer Board (NCB) premises. About 50 students have prepared projects using the services provided by the center, and now, through a joint initiative of the NCB and SME Mauritius, the country's
second 3D Printing Centre
has been unveiled at SME Mauritius in Coromandel. With its available filaments, 3D printers, and scanners, the center will be a one-stop 3D printing shop to support university students, startups, designers, and other industry professionals. It will also offer 3D print support services for SMEs.
Minister of Technology, Communication and Innovation, Yogida Sawmynaden said, "The scope of 3D printing technology, he highlighted is limitless and is bound to play a bigger part in the years to come."
Rigid.Ink Launches Institute of 3D Printing Course
UK 3D printing filament company rigid.ink is moving away from materials and on to educating the members of its community. The company just launched a new online coursed called The Institute of 3D Printing, described on the site as "A complete 3D Printing video course & private expert community designed to accelerate your printing skills and success."
"It's the first of its kind and since it's pretty unusual for a filament company to branch out like this," Ed Tyson, the owner of rigid.ink and founder of the Institute, told 3DPrint.com.
The goal is to make learning the technology less confusing for new users, so the industry is in the hands of everyday people, and not professionals working in big firms. The course includes entire modules on everything from adhesion and leveling the print bed to troubleshooting and much more.  In addition, members who take the course can receive technical support – within 24 hours, no less – from 3D printing professionals for tough questions. You can join the Institute of 3D Printing now for a monthly fee of just $20 – a savings of 25% off the usual price, with a 30-day money back guarantee included.
Magnitude Innovations Releases New Metal 3D Printing Software
Illinois startup Magnitude Innovations Inc., which offers product development and technical consulting services, has released its Uptimo software application, which is meant to help companies increase the profitability of their metal 3D printing processes. Magnitude itself specializes in metal laser powder bed fusion technology, and its software's proprietary algorithms analyze production data to offer instant 3D printing system feedback. While originally an internal tool for client projects, Uptimo is now available to any Magnitude customer as a standalone application.
Uptimo is an Operational Excellence software application, and utilizes scheduling and production data to assess how a 3D printer is performing over one, or multiple, projects. The analysis is split into four Key Performance Indicators (KPIs), and the customized solution will help companies improve build layout, machine planning, parameter optimization, and other aspects of the metal AM process that impact cost and quality. Magnitude's CEO Maciej Tusz is at the AMUG Conference in Chicago this week to represent the company and display the various features of its new Uptimo application.
Discuss these stories, and other 3D printing topics at 3DPrintBoard.com, or share your thoughts below.
Subscribe to Our Email Newsletter
Stay up-to-date on all the latest news from the 3D printing industry and receive information and offers from third party vendors.
---
Print Services
Upload your 3D Models and get them printed quickly and efficiently.