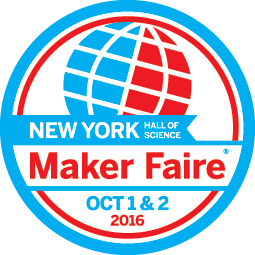 You never know what you're going to see at Maker Faire. I've attended Maker Faire New York every year since Make Faire came to New York, and it's been wildly different every year. In fact, due to the ever-changing layout of the event, it's hard to know where to start first. I'm glad I went both last Saturday and Sunday, because I would have missed some great stuff had I not come back for the second day. And the first thing that caught my eye on Sunday was a nifty little gaming system by Anthony Campusano, a New York-based architect.
Campusano is a game aficionado and about 8 years ago he got it into his head to make a portable PC to play games on. While his game system is ostensibly based on the venerable Nintendo Game Boy, first released in Japan in 1989, his system is quite a bit more capable and has updated stylizing and a larger, high-res display. Gone are the classic cartridges, replaced by SD card and USB jack. Interestingly, Campusano chose to prototype his Game Boy-inspired gaming system in Shapeways' White Strong & Flexible material. Campusano plans to print a version for sale, albeit with a new moniker, once he manages to make it lighter, thinner and more ergonomic. He expects to improve battery life, as well. Still, the version he exhibited at Maker Faire New York drew a crowd.
"I've always loved handhelds, but what I've always wanted was a way to play games at home on my desktop with fully accelerated graphics and then take the same save file with me on a handheld with the understanding that the graphics would be dumbed down for the handheld," says Campusano, "At first I tried using full a mini-itx board with a half-height graphics card, and while it booted and worked (handheld Gears of War 1, Yay!), it weighed 5lbs and only ran for about 15mins on batteries."
About a month ago, a friend of Campusano's sent him an image of Florian Renner's 'game boy up1' concept, a modern take on the Game Boy. The concept reignited his passion for his stalled Game Boy project. A month later he had a working prototype for a handheld Steam Machine based on Renner's design, the same prototype that he exhibited at Maker Faire New York 2016. Campusano plans to make his next version of the device thinner and with better tactile controls, but he stressed that the current prototype is the closest he's come to making the device he envisioned almost a decade ago.
Campusano explained to me his design process and the stats of his remarkable machine:
"I use AutoCAD for all my 2D design work, and the 3D is done in Inventor though I plan on moving to Fusion 360 soon. I'm a trained architect, though I have industrial designer envy. In terms of electronics, I'm self-taught. When it comes to machine specs, the handheld is based on an Intel Core M. Controls are Teensy based, and the status lights and battery level, etc. are run from an Arduino. Estimated battery life is about 3hrs +/- depending on the game."
I thought that Campusano's portable gaming system was really neat and I'm looking forward to seeing the next iteration. You can follow his work on his Instagram account, specializationisoverrated, and keep up with his work on his Shapeways shop. He also plans to detail his project on his blog at some point.
Subscribe to Our Email Newsletter
Stay up-to-date on all the latest news from the 3D printing industry and receive information and offers from third party vendors.
---
Print Services
Upload your 3D Models and get them printed quickly and efficiently.