3D printing a good looking model is always satisfying, but for me nothing beats a good project print. I just like the process of printing out all of the parts and putting them together, especially when they can be played with once the parts have all been assembled. After all, a big part of the fun of 3D printing is making things that you can show off, and movable or articulated models are always impressive.
There are tons of great articulated models available of all kinds, but while I was looking for some cute models to print for the kids in my sister's classroom I stumbled on some great animal models. Whether you want to 3D print some articulated animals for educational purposes or just for a fun 3D printing project, there is something for everyone.
So here are Ten 3D Printable Articulated Animals:
---
CRAYFISH
Articulated Crayfish by 4MULE8
Found on: Thingiverse
Cost: Free
This great crayfish model is fully articulated, including all 8 legs, both claws, antennae and the segmented tail. All together it has 21 points of articulation and doesn't need glue to be assembled. All of the parts print without any support material.
---
ELEPHANT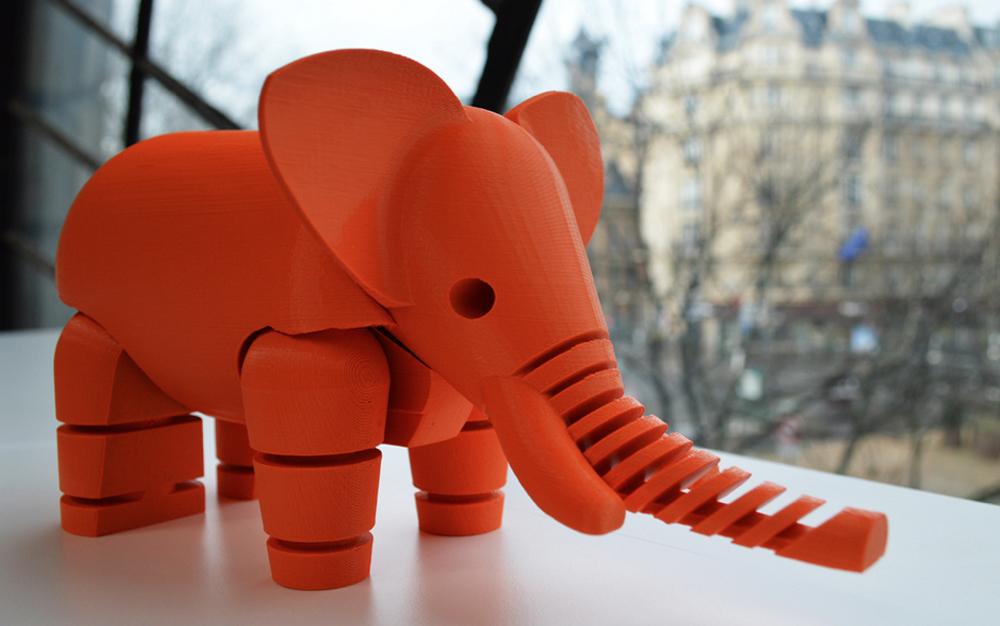 Found on: Thingiverse
Cost: Free
This cute little elephant is a super easy to print model, and unlike most of the entries on this list prints in one complete part in virtually any size without any difficulties. The model is also ideal for making larger or smaller depending on the size of your printer and the size elephant that you want. And since the original designers forgot about the tail, someone went ahead and made one for it.
---
HAND HOLDING MONKEYS
Articulated Ape by Egon van Engelen
Found on: MyMiniFactory
Cost: Free
These adorable little monkeys were designed to be printable as a single part and already include all of the support material that is needed to successfully print. However once everything is printed the parts can be taken apart and reassembled so you can make some multi-color monkeys.
---
JELLYFISH
Articulated Jellyfish by CarryTheWhat
Found on: Thingiverse
Cost: Free
This is one of the many great remixes of the popular (and super fun to print and assemble) Ball-Joint Articulated Octopus that is one of Thingiverse's most popular models. The designer created an entirely new body made of three parts that need to be glued together and repurposes the segmented legs from the original model. As with the octopus, this model is easy to make larger or smaller depending on the size printer bed that you have.
---
FROG
Froggy: the 3D printed ball-jointed frog doll by loubie
Found on: Thingiverse
Cost: Free
I'll be the first to admit that this Frog Doll is a little bit creepy, but it's also one of the coolest articulated 3D printable figures that I've seen, and we first saw it last year. Not only is the body fully articulated, but Loubie also included movable eyes and fully-articulated fingers. Just looking over the STL files makes it pretty obvious that this isn't going to be an easy 3D printing project, but there is a great Instructable that will walk you through the whole printing and assembly process.
---
PUPPY DOG
3d Jointed Puppy Dog by Jasmine Robinson
Found on: MyMiniFactory
Cost: Free
We've featured this 3D model before, and it remains one of my favorites and I felt it really belonged on this list. This adorable puppy won't pee on your floor or chew up your favorite pair of shoes, but it will melt your heart with just a look and a tilt of the head.
Here is some video showing off the puppy's full range of movement:
---
HUMAN SKELETON
Mr Bones – Articulated Skeleton by graphix25
Found on: Thingiverse
Cost: Free
This is easily the most complicated model on my list this week, but man is it worth taking the time to finish. The fully articulated skeleton snaps together with ball joints and can be positioned and moved into a ton of different poses. The model was originally designed to be 3D printed using Shapeways, but it can be printed on a standard desktop FDM printer in PLA as well it will just take some patience and a lot of rafting and supports.
---
TRILOBITE
Trilobite articulatum by AuntDaisy
Found on: Thingiverse
Cost: Free
The world may not have seen a living trilobite for most that 250 million years, but they are one of the most successful lifeforms to ever live on our planet. They first appeared more than 500 million years ago and thrived for almost 300 million years. This fantastic 3D printable version is great just as a fun 3D printing project or as an educational model for teachers to use in class (and of course scientifically accurate versions are also out there).
---
SHRIMP
Found on: MyMiniFactory
Cost: Free
This is a super easy to print model that doesn't require any assembly, other than the antenna, or need any supports. You will need to wiggle the joints a little bit to make them movable, but unless you're printing at too high of a temperature that shouldn't be very difficult.
---
SNAKE
Articulated Snake Toy by Luca Parmegiani
Found on: MyMiniFactory
Cost: Free
This simple little snake is a variation of the Ball Socket Joint and is only made of 3 different parts, the head, tail and the body. That means that you can make the snake as long as you want by printing out multiple body pieces.
---
Okay, that's all for this week. As always please make sure that you share anything that you are currently 3D printing with me because I always love to see what you all are working on. You can email me or tweet me @SJGrunewald.
Subscribe to Our Email Newsletter
Stay up-to-date on all the latest news from the 3D printing industry and receive information and offers from third party vendors.
---
Print Services
Upload your 3D Models and get them printed quickly and efficiently.