When it comes to design, there really is no limit to the imagination. Unfortunately, there is a limit to how much of a designer's imagination can actually be brought into the real world and turned into a physical object. The limitations of modern fabrication and manufacturing loom large over any product designer's thought process like a storm cloud, perpetually threatening to rain all over their best ideas. When you need to create objects by casting them in molds or by using CNC machines, there are geometries that are simply never going to work. Limitations aren't always a bad
thing of course, often times working around problems can stir a designer's creativity the way nothing else can. But advances in 3D printing technology are redefining what limitations designers need to work under.
American Standard Brands, one of the largest brands in kitchen and bathroom hardware, has just unveiled a new line of metal 3D printed faucets that seem too impossible to actually function. Using a selective laser sintering (SLS) 3D printing process, American Standard has produced some truly stunning kitchen hardware that makes it seem as if the water appears from nowhere. The SLS process allows designers to fabricate objects using geometries that could never be achieved using standard casting techniques.
The technique of selective laser sintering is actually rather simple in concept, if not in execution. A 3D model of the design is put into a program that slices it into extremely thin layers. Similarly to how a model is sliced for a standard FDM 3D printer, however the layers are much, much thinner. The design is then sent to the SLS 3D printer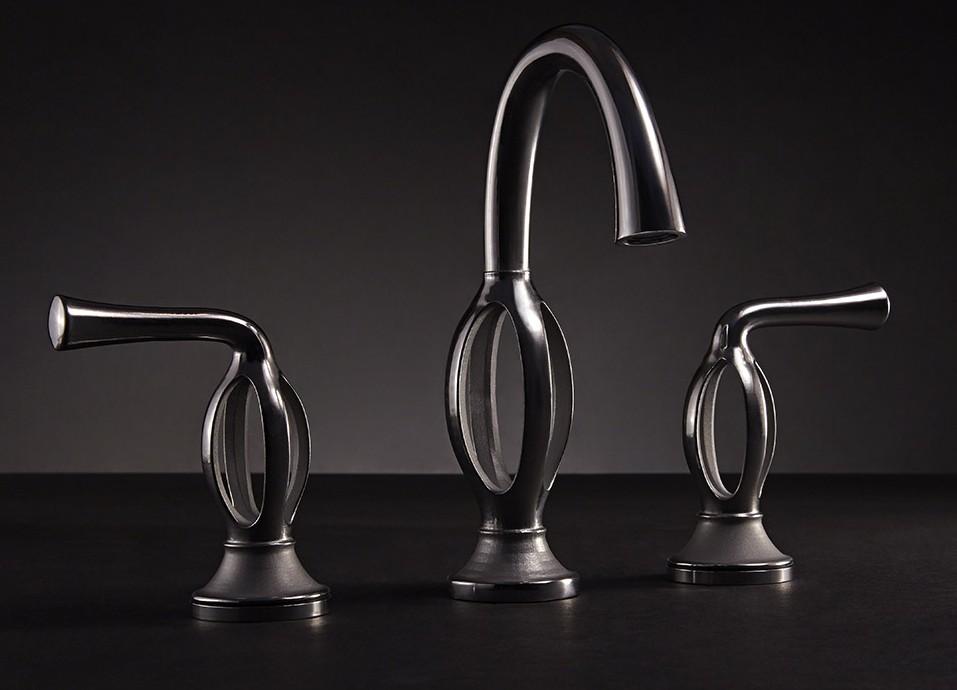 where a layer of metal powder about 5 grains thick is laid down on its printing bed. Then a laser melts the metal powder into the shape of the first layer of the 3D model. After the first layer is sintered, another layer of metal powder is laid down on top of it and the process is repeated. Because there is no need for support structures of any kind, the SLS process is able to produce virtually any geometry that a designer can think up.
"The [SLS] process democratizes design and decentralizes manufacturing, which will eventually upend the design and construction industry, along with many others. A new, more efficient business model for bespoke design could be on the horizon. This would reduce the inventory pressures that arise from mass production of personalized products, while opening up a new world for both design and construction," explained American Standard.
Two of the new American Standard DXV faucet designs have essentially reinvented the way that water is moved through them. The SLS process enables very fine structures of concealed waterways to be hidden in what looks to simply be a decorative design, giving the impression that the flow of water appears magically out of the faucet. The latticework of the designs have several of these small channels hidden throughout it, allowing water to easily flow up and converge at the top.
For the third DXV design, American Standard designers wanted to use the flow of water itself as a decorative element. The water flows up the faucet the same way that it would with a standard design, however it is then separated into 19 individual, staggered waterways near the top. The water then just falls out of the faucet in a very organic way, as if it were coming from a natural formation. The design is meant to evoke a stream of water rolling over rocks in a riverbed or of a small waterfall.
The American Standard DXV designs are the first entirely 3D printed kitchen faucets on the market. While they have used FDM 3D printing for years to prototype and test their designs, no one has ever produced market ready faucet's using 3D printing technology. Unfortunately you should not expect to see the DXV faucet's at Home Depot any time soon as American Standard said that they will only be available in a few exclusive showrooms and retailers. And that is likely due to the massive retail price tag, expected to range from $12,000 to $20,000. The full line of DXV faucet's are expected to be available by the middle of next year.
If you are one of the handful of people who can afford to spend 20 grand on a kitchen faucet, then first you should buy an extra one for me because you're a super nice person. But you also won't need to worry about these 3D printed faucets being dangerous or against your local building codes. The metal powder used in the SLS process is completely lead free, so they easily pass all low-lead code approvals, and they have also been designed to fully comply with all water-saving standards. So let us know what you think of these unique faucet designs in the Metal 3D Printed Kitchen Faucet forum at 3DPB.com.
Subscribe to Our Email Newsletter
Stay up-to-date on all the latest news from the 3D printing industry and receive information and offers from third party vendors.
---
Print Services
Upload your 3D Models and get them printed quickly and efficiently.