This week we're bringing you 10 great 3D printing projects and gifts for Valentine's Day, whether you need a last minute gift or something handmade to show your partner how much you care.
3D printing is an opportunity to give the gift of your time and attention to your loved ones by spending time on making and building some great Valentine's Day-themed projects. So dig out your red and pink filaments and get printing!
Here are Ten 3D Printable Valentines Day 2018 Things:
LIGHT-UP LED FLOWER VASE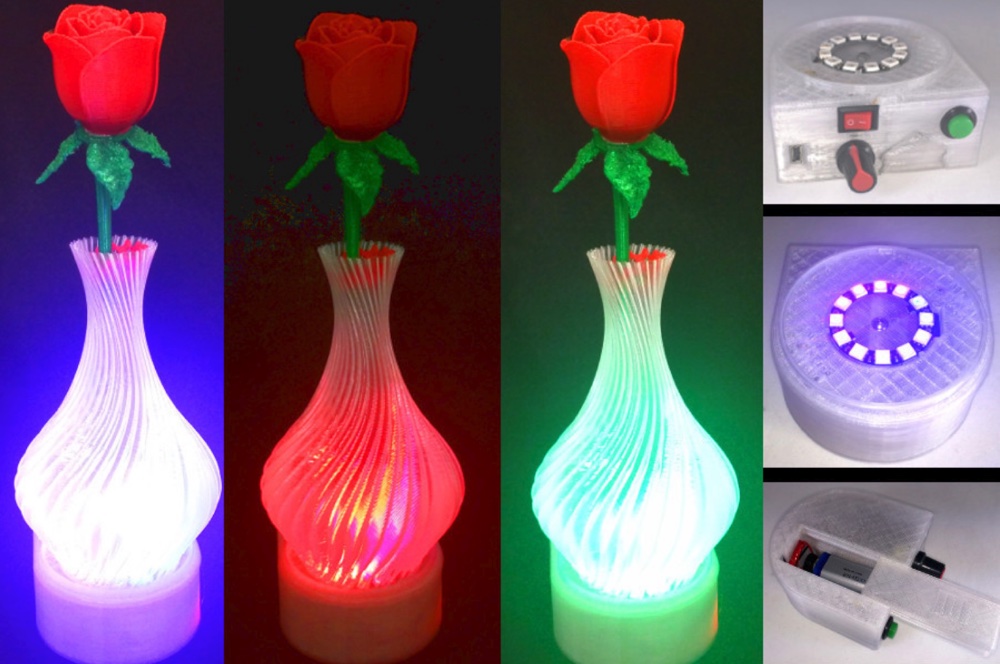 Valentine Vase Dazzler by vorpal
Found on: Thingiverse
Cost: Free
Flowers are the go-to gift for most Valentine's Days, but why put them in a boring glass vase when you can give this light-up LED vase instead? There are full project instructions on Thingiverse, and it's a pretty straightforward project. The item page includes a full shopping list and assembly instructions.
Here is some video of the vase's lighting effects:
MOBIUS HEART PENDANT
Found on: Thingiverse
Cost: Free
A Möbius Strip is a shape that mathematically only has one side, only a single boundary and the property of being unorientable. The Möbius' geometric shape was the inspiration for this heart pendant, with the path of the loop being the heart shape. This model will need some support, but it's still a short and easy print.
LOVE SKULL VALENTINE
Love Skull by Guillermo Empinado
Found on: MyMiniFactory
Cost: Free
This cool Valentine skull is a pretty simple print that can be printed to fit just about any size 3D printer bed. It can be given as a gift on its own, or as part of a Valentine's Day-themed gift basket.
HEART-SHAPED VALENTINE GIFT BOXES
Valentine's Gift Box by MakerBot
Found on: Thingiverse
Cost: Free
These boxes have five different lids with different text, including "Be Mine," "Text Me," "No Way," "Love Stinks," or "It's Over." You can either paint the text on the lid, or stop in mid-print at 7mm and change the filament color.
6-SIDED VALENTINES DIE
Valentine's Dice by Todd Olsen
Found on: MyMiniFactory
Cost: Free
Valentine's Day dates have a tendency to turn into Valentine's Day sleepovers, so why not add a little bit of fun and games to the evening? This 6-sided die is a fun grown-up game that can spice up any relationship, especially these suffering from a lack of foreplay.
OTTERS HOLDING HANDS PENDANT
Otters Holding Hands by Jaxon Farris
Found on: MyMiniFactory
Cost: Free
This adorable otter pendant is perfect for the animal lover in your life and should print pretty quickly, making it an ideal last minute gift.
BEATING HEART MACHINE
Animated Heart Valentine by Greg Zumwalt
Found on: MyMiniFactory
Cost: Free
For a more involved Valentine's Day gift try this hand-cranked, beating heart machine 3D printing project a try. Print the heart and the case in two different colors and just follow the easy to understand directions by the designer and you'll have a fun and unique gift in no time.
Here is some video of the heart beating in action:
HOLE IN MY HEART COOKIE CUTTER
Found on: Thingiverse
Cost: Free
It wouldn't be a Valentine's Day list if I didn't include something to make your partner some yummy treats. Say everything that you need to say with a batch of sugar cookies – you can even add some red food coloring to the batter – made with this fun cookie cutter. Make sure that you bake the small heart cutouts along with the rest of the cookie; you can put four together so they won't burn while baking.
VALENTINE HEART BOW & ARROW
Found on: MyMiniFactory
Cost: Free
Be your own Cupid with your very own 3D printed heart-themed bow and arrow set. The bow is powered with a simple rubber band, so you can really shoot the heart arrows. Full assembly instructions are available by the creator, and the models are small enough that they can be printed on almost any 3D printing bed.
GYROSCOPIC HEART GEARS
The Fantastical Gyroscopic Heart Gears Valentine! by joefe
Found on: Thingiverse
Cost: Free
You can either 3D print this clever heart-shaped gear model, which on its own is a fun 3D printing project, or you could build this fantastic machine that will actually turn the gears automatically. You'll probably want to print this project in about three different colors of filament, and the designer has full printing and assembly instructions available.
Here is a video showing how the gyroscopic gears work:
If you need any other ideas, you can check out some other designs that have caught us with hearts in our eyes over the last few Valentine's Days.
Thanks for joining me again this week, as always, you can email me your feedback and theme suggestions, and I always love to see what 3D printing projects you've been working on. You can also find me on Twitter @SJGrunewald, so say hi and feel free show off what you printed. Tag it #103DPThings and you'll get a RT.
Let us know what you're 3D printing for Valentine's Day at 3DPrintBoard.com or below. 
Subscribe to Our Email Newsletter
Stay up-to-date on all the latest news from the 3D printing industry and receive information and offers from third party vendors.
---
Print Services
Upload your 3D Models and get them printed quickly and efficiently.