While we have had our great writers, painters, and a multitude of famous artists throughout history to inspire and allow us to appreciate so many mediums, sometimes it seems nothing can compare to the delight of listening to a musician, with the notes taking us straight up, back down, and on an inimitable journey of emotion and wonder. This does often appear to be one of those you've either got it or you don't talents, as technical prowess is one thing, but the ability to make to the listener feel and want more is another altogether. The true artistry, of course, is in making each performance look and sound so easy.
The tools of the musical performer, as always, are crucial, and no artist relies on their tools to be more finely honed—as well as requiring them to be front and center for the audience at all times. Musicians are known to have an affinity for collecting and constantly adjusting the tools of their melodic trade, whether those be guitars, trumpets, or, as we're looking at today, the violin.
Here, we catch a glimpse into the world of a materials manufacturer working with not only a new product, but also a challenging new project in 3D printing an acoustic violin. Formlabs, most famous for their exceedingly popular Form 1+ and Form 2 3D printers, is also continually involved in the science of producing resins as well. A company we follow often, you may have seen their team recently in our webinar, 'How to Choose the Right 3D Printing Technology – FDM vs SLA vs SLS.'
Now, upon the release of their updated white resin, Formlabs engineer Brian Chan decided to go big in making a completely functional acoustic violin. And while it's all in the details of course, the end result is pretty stunning—in the form of a video with violinist Rhett Price showing off exactly what can be done with this new material and this new instrument. Price is definitely a violinist with an exceptional and modern style, and while Formlabs rocks out their new and improved material on this amazing design, I have a feeling Price could play nearly any violin and leave an audience mesmerized. He did however seem to get quite a kick out of seeing his favorite instrument produced in such a new light:
"It was an amazing opportunity to work with Brian and Formlabs on this project, and have the chance to perform on such a modern spin of an instrument I've been playing for 23 years," Price said. "The sound quality of the violin Brian engineered was unbelievable, and the technology is absolutely incredible."
Watching the video will probably lead you down a long and enjoyable lane of listening for the day—and beyond—as Price wrote his own song, catchy and soulful, for the video. You'll find yourself wanting to watch and hear again and again, as well as checking out his many other performances.
But let's get back to the 3D printing angle here. While this was Chan's first experience in producing a violin via this process, he has tried his hand at making the instrument by more conventional methods.
"A few years ago I built a traditional wooden, hand-carved violin based on tracings of a Guarnerius in a book from 1884, Violin Making, As It Was and Is by Edward Heron Allen. This year, I tried to do the same with modern design tools and 3D printing," says Chan.
Considering the high quality of violins being made today (and well, for hundreds of years, really), Chan had his work cut out for him.
"The violin's form is very recognizable," said Chan. "It's been around for centuries, and has barely changed in design. Violin music has evolved to such a high level that the instrument has attained an almost legendary status in our culture."
The engineer pointed out that an acoustic violin is of course, particularly on its own to offer perfect sound as the violinist will not be looking toward other tools like amplifiers or filters. The instrument must come together as one perfect whole, complete in sound, shape, structure—and very importantly—material.
With the face generally made of spruce, the more conventional violin has a hollow shell. Chan wanted to focus on the challenge of producing the same design with his 3D printed version, with further experimentation to come in terms of the other accents once he was able to 'get the basics right.'
Noting that drawing a violin by hand is quite difficult, Chan went on to produce what certainly appears to be quite a competent sketch. After that he began defining the structure of the violin in Onshape, a full-cloud 3D system that allows users and design teams to perform powerful modeling. Upon printing, he used their Form 2 3D printer with White, Black, and Tough resins. The violin was going to require great strength, and as Chan points out, SLA parts are isotropic—offering that required strength and stability as force comes from each direction.
"Also, the complex geometry of the instrument demanded tight tolerances for both small and large features, which the Form 2 was able to print consistently," said Chan.
Much of that great functionality that Price commented on might be due to Chan using the basic outline of a Stradivarius for this design. But this wasn't a one-off as the project ensued. Working through his design plans and continuing to refine, Chan actually produced five 3D printed violins!
While the first 3D printed violin assured him that the design and the instrument were actually viable, he then went on to make further improvements with each iteration—one of the greatest benefits to be found in 3D printing. Chan didn't have to go through a middleman to reproduce an expensive new violin each time he found something he wanted to change. He just went back to the design, made his edits, and popped off another print. At will.
During the process and his three main iterations, Chan had to deal with fixing issues like:
A muted sound
Warping under the force of the strings
Weak fingerboard
Too heavy in weight
His last design featured carbon fiber struts on the inside, along with a detachable assembly. The front face was much thinner and cleared up the issue with muted sound, resulting in a much clearer and louder performance. Chan made greater reinforcements to the neck and scroll, and also hollowed out more of those areas, decreasing weight. Upon testing, the violin was found to be much improved in terms of sound, weight, and comfort. It is made of 26 parts that can be 3D printed in 'four or five overnight prints,' according to Chan who says this is his final version, for now.
"When it comes to a project like this one, created with the help of cutting-edge design tools and 3D printing, the most important 'object' is not the physical violin, but the design itself, which can (and will) continue to evolve," said Chan.

"I hope that other tinkerers will take up this design and add their own changes as they see fit."
Are you feeling inspired enough by now to try making your own violin? The files from Formlabs are available by free download at Pinshape, where you'll find a bit more information as well. Chan says that for this design, you'll be able to find strings, screws, and the carbon fiber rods easily. You can also check out the open-source design here. Formlabs will also provide you with a sample of their new white resin, should you desire. Is this a project you might like to take on? Discuss further in the 3D Printed Violin forum over at 3DPB.com.
[Source/Images/Video:
Formlabs
]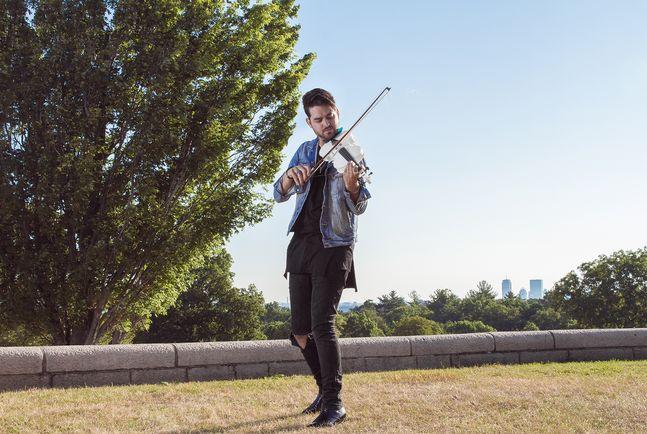 Subscribe to Our Email Newsletter
Stay up-to-date on all the latest news from the 3D printing industry and receive information and offers from third party vendors.
---
Print Services
Upload your 3D Models and get them printed quickly and efficiently.