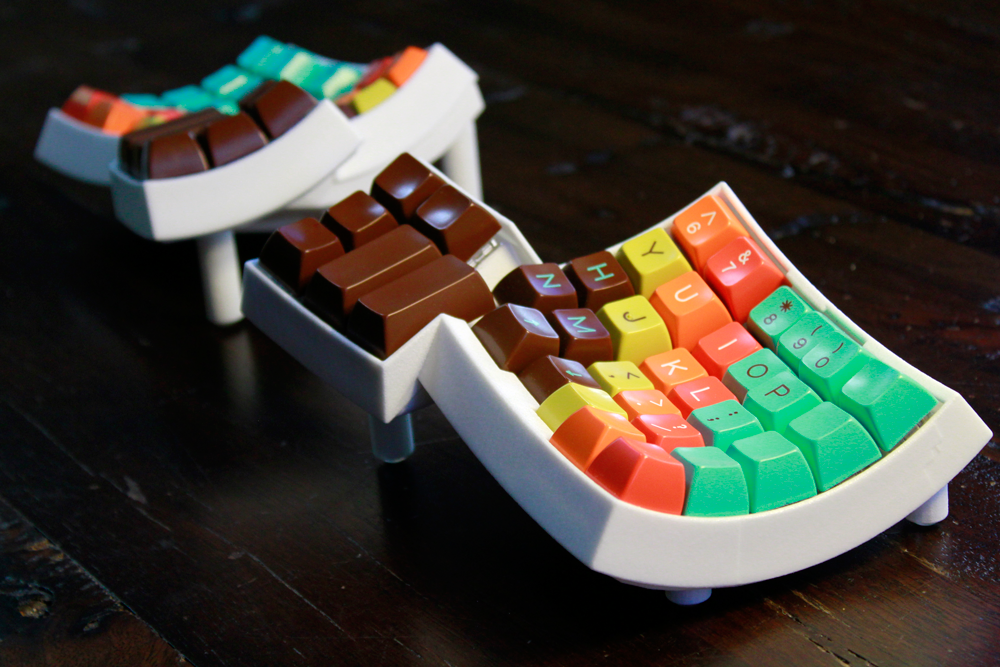 I have to admit that when I saw the words "dactyl keyboard," I had no idea what this means. But you would think as one who writes both for a paid job and as a recreational outlet, I would have already heard the term dactyl related to keyboard design –since it is ergonomic.  But we writers are a stubborn breed: there's a method to our own madness and we are quite hard-pressed to want to change what seems to deliver the product in the moment. Perhaps, if this describes you, you would change your writer's desk set-up to accommodate this awesome 3D printed dactyl keyboard… if we only knew what the word "dactyl" actually means!
When the word "dactyl" pops up in Wikipedia, it gives six definitional categories: mythology, poetry, an arts organization, part of a hand, part of a decapod crustacean, and a moon of asteroid. For proper definitions, dactyl literally is a Greek work referring to a "foot in poetic meter." So, the evolution of the word coming from the foot leads to  part of a hand: and there we have it. A dactyl keyboard is designed to fit the more natural inclinations of our hands on a keyboard.
As you can see from the photos, the dactyl keyboard is split for your two separate hands. This is the most notable feature that differs greatly from regular rectangle-shaped keyboards. Here, this keyboard design is described as a "parameterized, split-hand, concave, columnar, ergonomic keyboard." And wow is it funky looking! This is designed (and available as open source files under a Creative Commons License) by Matt Adereth, who explains that if it's 3D printed on an SLS printer, it takes a lot of supports and a lot of time. As Keychatter.com puts it: "This is an extremely awesome DIY keyboard, but is definitely one for the more experienced builders out there."
You don't need reviewers to see that this extremely complex design, that features a split keyboard for left and right hands, looks not only like a challenge to 3D print, but a challenge to adjust to. Personally, I type quickly but am a case study in unconscious memorization of the keyboard. That is, I can not consciously tell you where keys are until I close my eyes and imagine typing out a word: fascinating. I wonder how long it would take an old school keyboard user to adjust to this incredibly funky and ergonomic keyboard design.
I am looking forward to trying one of these out for sure. 3D printing is changing our everyday objects while putting incredible design spins out there as well. And when you can claim you've designed an object that is ergonomically correct on top of it all, the dactyl keyboard has my vote for "Best New 3D Printable Keyboard Design" — possibly ever! Is this something you want or need? Discuss in the 3D Printed Dactyl Keyboard forum over at 3DPB.com.
Subscribe to Our Email Newsletter
Stay up-to-date on all the latest news from the 3D printing industry and receive information and offers from third party vendors.
---
Print Services
Upload your 3D Models and get them printed quickly and efficiently.