Spanish sculptor Sonia Verdú tried her hand at creating 3D printed, articulated dolls in what we'd call the "fantasy" genre with and the results were not disappointing. In particular, her most recent work, an approximately 8" tall 3D printed, articulated doll she named "Robotica" is an impressive fusion of sculptural savvy, technical know-how, and clever craftsmanship.
Verdú shared her STL files and images on Thingiverse. She used PLA to print the 30 or so pieces for the figure. Robotica is held together with elastic cord and her maker shared a video demonstrating how to connect the different parts. We think the fast-motion video, which is set to music, is nearly as artful as the doll itself; check it out at the bottom of the page.
Verdú, who is from Madrid, studied sculpture at the University of Madrid and has also worked as a graphic designer and illustrator for several years. Her series of articulated dolls — charming and colorful fairies as well as a lovely, Gothic female figure complete with handmade clothing and accessories — occupy a particular niche in the world of collectible dolls. The Goth doll is the priciest of the ensemble, selling at $1,500. Verdú sells the dolls on Etsy; the fairies range in price from around $70 to $800. Her dolls can also be purchased on the artist's website, which features multiple examples of her work in other media, including illustration and sculptures in bronze, resin, and ceramic. I think Robotica, the elegant and retro-looking cyborg and her 3D printed predecessor, a more traditional, mechanistic-looking robot, are the stars of the Spanish artist's show.
While Verdú's Thingiverse page is short on instructions, there are STL files for the various pieces, which would admittedly take a bit of time to upload to a 3D printing service. The various pieces of Robotica are 3D printed and then, we assume, painted. Verdú didn't provide instructions for the painting but the images and the video are great, so the more ambitious makers who take on this project can look to Verdú's examples or get creative.
If you're not up to the task of printing and assembling on your own, you have options. You can outsource the printing to an online 3D printing service like Shapeways or iMaterialize and then paint and assemble the doll yourself. If you want Verdú's handpainted version of the sultry cyborg beauty, Robotica can also be purchased on Etsy or via her site already printed, assembled and painted for $343.75 — subject to availability, of course.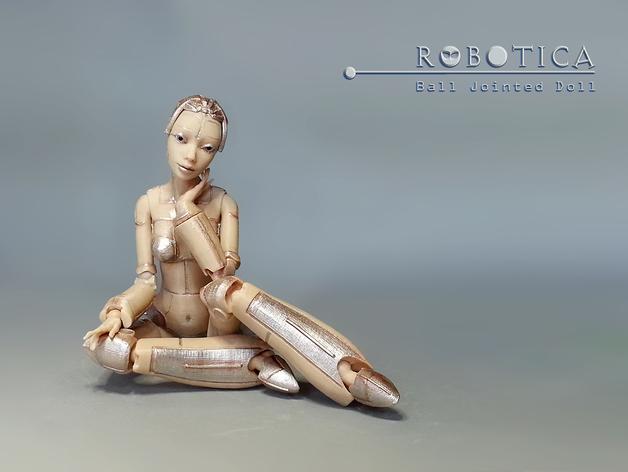 Check out the video of the assembly and articulation below. What do you think about Robotica? Is this the kind of project you'd be interested in undertaking, even with all this assembly? Let us know what your thoughts are in the 3D Printed Robotica forum thread on 3DPB.com.
Subscribe to Our Email Newsletter
Stay up-to-date on all the latest news from the 3D printing industry and receive information and offers from third party vendors.
---
Print Services
Upload your 3D Models and get them printed quickly and efficiently.