Shining 3D has released two new dual-light source, handheld scanners, the EinScan H and EinScan HX, that broaden the capabilities and applications enabled by the company's 3D color scanning solutions. By integrating a second light source, in addition to the existing EinScan LED scanning technology, it will be possible to use hybrid light sources to capture full color and detail even for hard-to-scan objects, such as hair, or black or reflective metal surfaces.
Headquartered in China, with offices in Germany and the USA, Shining 3D has leveraged more than 10 years of experience in 3D scanning and digitization solutions to innovate and advance its product applications in education, medical, art and heritage, and industrial sectors.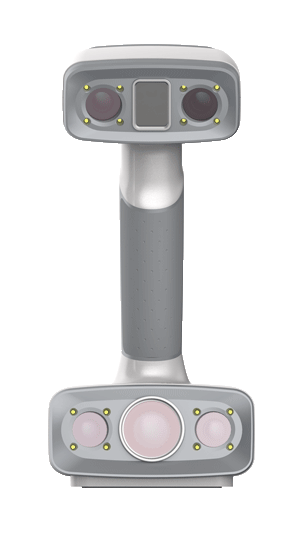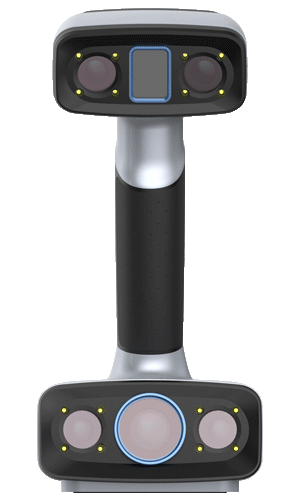 Einscan H and HX handheld, dual light source 3D scanners
With the EinScan H, an infrared invisible light sensor is combined with the LED light sensor and a built-in color camera, to enable high quality scanning of large- or medium-sized objects. This includes difficult-to-scan items, such as hair and dark objects, that can now be captured using the infrared light source. The EinScan H with hybrid light sources, allows the user to choose an appropriate light source depending on the object and the scanning environment. In combination with innovative software algorithms, user-friendly design and handling, it enables "full human body data acquisition including hair, authentic digital replication of outstanding art pieces, furniture digitization for reproduction and virtual display and many more."
The EinScan HX, on the other hand, combines a laser with Shining's existing LED technology—which uses dual blue light sources—to widen the scope of materials that can be scanned and the variety of ambient conditions in which accurate scanning can be done. The blue LED structured light is used to capture object data in rapid scan mode, without the need for reference points, while multiple blue laser lines capture highly accurate, high quality, quick scanning of 3D objects, particularly those with reflective metal surfaces or black surfaces.
Shining 3D provides end-to-end integrated 'Scan-Design-Print' solutions, as well as specific scan to print solutions for Dental, and metrology solutions. For digital dental solutions, the company provides desktop 3d scanners with their AutoScan series, an intraoral scanner Aoralscan, and dental 3D printers with the AccuFab series for surgical guides or wax crowns, and the EP series for orthodontic models and metal crowns.
Yet the company, with over 300 patents and 100 copyrights, is probably best known for its EinScan range of 3D scanners. In June this year, Shining 3D had launched its Pro HD which extended fixed-scanning features to handheld scanning. In April, the company had launched its automated 3D inspection desktop system, AutoScan-Inspec, to improve efficiency in the scanning of small, complex parts, with accuracies up to 10 μm. In July, the Chinese company partnered with Japanese footwear company Magarimono, to develop a line of designer footwear using SLS 3D printing technologies with TPU material, where the design is based on that of the different types of clouds.
(Images and videos courtesy of Shining3D)
Subscribe to Our Email Newsletter
Stay up-to-date on all the latest news from the 3D printing industry and receive information and offers from third party vendors.
---
Print Services
Upload your 3D Models and get them printed quickly and efficiently.