Intel and 3D Systems Make an 11-Year-Old Boy an Affordable Prosthetic Hand 3D Printed as a Single Part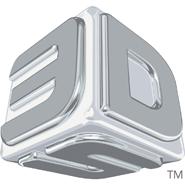 Despite being able to live and go to school in a different country, Daniel Hobbs is pretty much like any other 11-year-old, he plays sports, rides his bike around his neighborhood and plays with his friends. Because both of his parents are teachers, Daniel and his 13-year-old sister Bethany had the chance to move with their parents from the UK to Spain. They have been given the opportunity to learn the local language and experience a different culture than the one that they grew up in. For the most part he's just like any other kid his age, except for the one thing that has caused his friends to give him the nickname Iron Man.
When Daniel's mother was pregnant with him she was told at the five-month point that he had a congenital malformation of his left arm that would result in him being born without a lower arm. Thankfully other than his hand, Daniel was in perfect health, and hasn't let his missing limb slow him down very much. Obviously anyone who is missing a limb is going to face difficulties navigating a world built for people with two hands, but from the age of seven onward he had a prosthetic hand to help him along the way.
Unfortunately, high-end medical-grade prosthetics for children tend to be quite expensive, mainly because children stubbornly refuse to stop growing, requiring the limb to regularly be retrofitted to him as his body changes. While the initial charge of $1,800 was manageable thanks to a fundraiser that Daniel's father started, the costs associated with his arm continue to climb each time that it needs to be resized. Not only does Daniel find himself without his prosthetic for weeks at a time, it often costs his parents, both living on teacher incomes, more than a thousand dollars. His parents wondered if 3D printing would offer them a better alternative.
"We know so many families who can't afford it. So we were really interested in finding out what other options were available. We know [3D printing] is the future of prosthetics. We're really interested to see what the future holds," explained Daniel's mother, Abby Hobbs.
Thankfully, Intel was willing to team up with 3D Systems to 3D print Daniel a lighter and more cost-effective hand prosthesis. 3D Systems Applications Engineer Evan Kuester is himself no stranger to prosthetic hands. While in college he started his career designing beautiful and aesthetically pleasing prosthetic devices for a friend who was missing her left hand. While he initially started designing prosthetics for fun, it quickly turned into a career and he went to work for 3D Systems shortly after graduating.
Kuester started by taking a high-detail 3D scan of Daniel's limb and his intact hand to make sure that the device would match the scale of his working hand, and fit his arm snugly. It took a few tries to get everything correct, but in no time at all Kuester had designed an amazing prosthetic hand that weighs less than two pounds and looks cooler than an Iron Man hand. Amazingly, the prosthetic hand has sixteen individual, movable pieces, but is 3D printed as a single part in nylon by a 3D Systems Selective Laser Sintering (SLS) 3D printer.
Here is some video of Daniel receiving his 3D printed prosthetic:
Daniel's new prosthetic is a bargain at twice the price, not only is it slimmer and lighter, but it offers him a greater range of motion than his other, bulky hand. Plus, the hand doesn't require any power because it was designed so the fingers flex when Daniel moves his wrist. And the best part is the prosthetic hand only cost his family $400 total. And because the process of 3D printing prosthetics is so affordable and relatively simple, Kuester says that custom devices that serve specific needs can also created, so Daniel can have interchangeable attachments made to play a guitar, hold specific tools or hold a violin bow. As always when it comes to 3D printing, there seem to be no limits to what it can do.
Here is some video of Kuester talking about designing Daniel's prosthetic. What do you think of this process? Discuss in the 3D Printed Hand Prosthetic for Daniel forum over at 3DPB.com.
[Source/Images: iQ by Intel]
Subscribe to Our Email Newsletter
Stay up-to-date on all the latest news from the 3D printing industry and receive information and offers from third party vendors.
---
Print Services
Upload your 3D Models and get them printed quickly and efficiently.